GX Disc Brake Gravel Frameset
Including Parts: GX Frame, Fork, Handlebar, Seatpost
Frame:
Size: 49cm, 52cm, 55cm, 58cm
Material: High Modulus Toray 800 Carbon Fiber
Color: Chromatic Grey / Baltic Red / Blue Spectrum / Pink Opal / Snowfrost White
BB: BB86
Headtube: Straight 1-1/2"
Rear Dropout: 12*142 Thru Axle
Rear Derailleur Hanger: Replaceable
Frame Weight: 980g+/-50g (49cm) 
Handlebar:
Handlebar Size:  400mm,420mm,440mm
Stem Size: 80mm/90mm/100mm/110mm
Handlebar Weight: 340+/-15g (420x90)
Fork & Seatpost:
Fork: 1-1/2" Straight Steerer, 12*100 Thru Axle
Fork Weight: 430g+/-15g
Seatpost Weight: 210+/-15g
Compatibility:
Brake Fitment: Flat Mount Disc
Cable Routing: Internal
Bottle Mounts : 4
Mudguard Compatible: Yes
Cargo Rack Compatible: Yes
Max Tire Width: 700X53mm , 650BX2.1"
Accessories: 
Handelbar Spacers 3mm: 1PC, 5mm: 1PC, 10mm: 2PCS, Headset Bearing Cap 10mm:1PC
Front Axle: 1pc, Rear Axle: 1pc
Limited Rider Weight: 110KG                        
Warranty: 3 Years
Note:Single chainring, max 42T (corresponding chainline=49.7mm ).
            Double chainring, max 54/42T (chainline=43.5mm) , min 46-30  (chainline=47mm)
Geometry: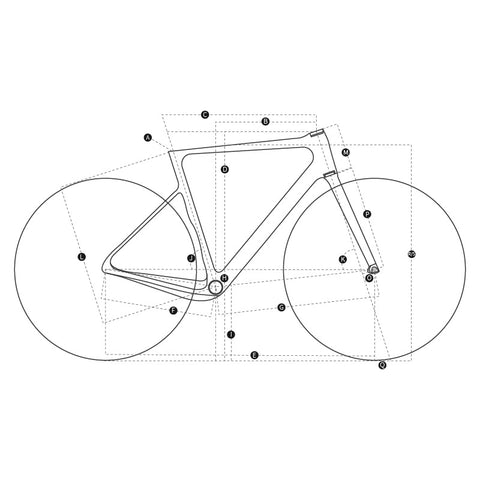 | | | | | | |
| --- | --- | --- | --- | --- | --- |
| | GX | S/49CM | M/52CM | L/55CM | XL/58CM |
| A | Seatpost insert length | 180 | 220 | 250 | 270 |
| B | Reach | 374 | 377 | 386 | 397.1 |
| C | Top tube length, horizontal | 535 | 550 | 575 | 595 |
| D | Stack | 542.6 | 563.4 | 598.6 | 627.1 |
| E | Wheelbase | 1008.9 | 1014.5 | 1029.6 | 1049.8 |
| F | Chainstay length | 430 | 430 | 430 | 430 |
| G | Front center | 593.8 | 599.4 | 614.5 | 634.5 |
| H | BB drop | 70 | 70 | 70 | 70 |
| I | BB Height | 285 | 285 | 285 | 285 |
| J | Seat tube angle | 73.5 | 73 | 72.5 | 72.5 |
| K | Head tube angle | 71 | 71.5 | 72 | 72 |
| L | Seat tube length | 490 | 520 | 550 | 580 |
| M | Head tube Length | 120 | 140 | 175 | 205 |
| O | Fork rake/ offset | 50 | 50 | 50 | 50 |
| P | Fork length | 397 | 397 | 397 | 397 |
| Q | Trail | 69.3 | 66.1 | 62.7 | 62.7 |
| R | Bike standover height (700x53c) | 776.4 | 793.4 | 833.4 | 863.9 |
| S | Bike standover height (650bx2.1) | 766.4 | 783.4 | 823.4 | 853.9 |
Sizing & Fit:

The charts below show our recommended sizes based on height, but there are some other factors, like arm and leg length, that determine a great fit.
That's why you'll see some overlap in our recommendations.
Size
S
49CM
M
52CM
L
55CM
XL
58CM
Rider Height
165-174CM

175-184CM

185-194CM

>194CM
Minimun Inseam Height
73-83CM
80-86CM
84-90CM
>87CM
SAFETY EQUALS QUALITY
We have strict quality control process to ensure the excellent frameset quality.

1.Test di fatica della pedalata: carica 1100 N, 100000 cicli
2.Vertical Fatigue Test: Load 1200N , 50000 Cycles
3.Horizontal Fatigue Test: Load 600N , 100000 Cycles
4.Vibration Fatigue Test: load ST:20KG,BB:40kg,HT:10kg , 30000 Cycles
5.Impact Test (Falling Mass): Falling height 212mm, farmar weight: 22.5 KG.
6.Rigid Test (Falling Frame): Load ST:30KG, BB:50kg, HT:10kg, 2 Cycles
Safety equals Quality
100,000 Cycle fatigue test with no damage

72cm Drop impact test with both drop loaded by weight, replicate heavy sprinting, no damage.

We have very strict quality control for all YOELEO products, because safety is always our number one priority.
Spacer Adaptor to Fit Most of Internal Cable Routing Frame
We provide different adaptors to fit different carbon frames, if your carbon frame model is not in the options,please be free to contact us for more details.
FULLY INTERNAL CABLING
Internal cable routing results in external clean lines and improved aerodynamics with the cables completely hidden from view within our fully internal H21 integrated handlebar. The internal cable routing system is not only adding to the aesthetic qualities of the frame, but also makes cleaning the frame a simpler process.
TONS OF MOUNTS
This G21 has tons of mounting for bottle cages, fork panniers, rear panniers, and mudguards on both front and rear sides. We even make the front triangle high enough to ensure riders can mount a frame bag without sacrificing two bottle carrying capacity on the bike.
MASSIVE TIRE CLEARANCE
Up to 53c means you can fit a MTB 29 inch tire when you need to tackle bigger obstacles or to ride in very challenging terrain. However, smaller tire sizes like 45c are recommended for muddy condition rides and for a bike setup with mud guards to ensure there is enough room for mud built-up during the ride.
EXTRA COMPLIANCE FOR BETTER CONTROL
We purposely choose D-Shaped seatpost to give the rider a little bit of compliance on the rough road surface, combined with a bigger tire to act as its main suspension. G21 allows the rider to ignore small obstacles and focus on bike control.
EPS+LATEX Production Tech
For Handlebar and Frame
As previously mentioned the G21 is moulded by new manufacturing process called EPS+Latex Tech. Unlike traditional methods like nylon bladders, latex is very flexible and can stretch, so the inside of the frame can be moulded more consistently. This new tech makes G21 incredibly smooth internally eliminating fold lines and creases for a more uniformed internal wall smoothness resulting in a stronger frame. It also simplifies the cable routing process and with this new tech, the frameset weight remains lower due to the extra resin overflow rate is higher and spreads more evenly during the moulding process.
Our H21 gravel handlebar are using the same tech as well.
PROGRESSIVE GEOMETRY
Implementing a proven gravel geometry, G21 feels nimble and stable on the high speed like a road bike. At the same time, it provides the rider confidence to ride on the rough surface and steep descent, thanks to its wheelbase and 67mm mechanical trail.
LIGHTWEIGHT
G21 MONSTER GRAVEL EXPLORE NATURE, CONQUER CHALLENGES

G21 is good chooice for gravel racing or long-distance gravel riding
More Flexible and More Comfortable Seatpost

The new slider saddle-clamp design, gives more freedom for the rider to adjust their most comfortable position. Preventing the saddle to tilt accidentally when riding on gravel road.
Nice and Tight Seat Clamp

Better seatpost clamping mechanism.
We make the seatpost wedge contact surface wider for more grip power.
Better locking bolt position, allowing rider / mechanic to use torque wrench when tightening the wedge.
New designed contact surface is with more friction, ensuring the seatpost is held perfectly.
New FD Cover

We add a new seamless setup hanger cover for the single chainring, so there won't be any empty front derailleur hanger when you have a 1x setup.

FD Cable Grommet's Improvements
With improved front derailleur metal grommets, we now provide three options for you to switch mechanical groupsets to electrical groupsets:
1) The shift cable can pass through for the Shimano R Series or higher.
2) The outside cable terminates within the frame for earlier Shimano, SRAM, and Campagnolo models.
3) SRAM electrical groupsets will have the hole patched up completely.
Wider and Easier-fix Bottom Bracket T47
Improving bottom bracket area by replacing BB386 with BB T47, wider bearing placement, and easier to do the maintenance. There is no need for big, complicated BB removal tools.
Downtube Cover - Less impact, More Fun
The bottom bracket and downtube are shielded from road debris and direct collision by the downtube cover whenever the front wheel makes contact with the ground.
New Fork Options
We redesigned the fork attachment holes and make it flat. There are more fork options available
1) Flat holes fork attachment for the rider who wants a fully functional fork and aesthetic design.
2) Seamless fork without holes attachment for the rider who wants a cleaner look that's perfect for gravel racing and long weekend trips.
New Desing Rear Hanger

Improved Thru Axle nuts for faster and easier wheel's assembly.
Direct mount RD (optional) for Shimano group set helps to increase shifting precision and shorten shifting response time.
Reviewed by Patrick from U.S.A
I can say that if you are looking for a gravel frame just in general this is definitely the bike you should get in my opinion. This bike does everything I need to do. You have the flared handlebar, integrated cockpit and it's really comfortable.
YOELEO Sponsored Team - Cykeln
We have been sponsoring the Italian Cykeln team since 2016. All team members are using Yoeleo SAT T60|88 carbon wheels. In 2016, the team member Martino Poccianti set the fastest lap in Red Hook Crit Milano history. His time of 1:29.576 was 2 seconds faster than the previous track record. The average speed for this lap was a blistering 52kph.