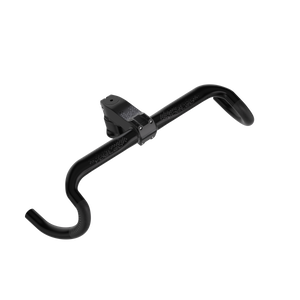 H25 CARBON HANDLEBAR

Handlebar Type: Gravel Bike Handlebar
Handlebar Material: 100% Carbon Fiber T700
Finish: UD Matt
Decal: Black Glossy
Handlebar Size (Hood): 400/420/440mm
Handlebar Size (Drop): 500/520/540mm
Reach: 74mm
Drop: 114mm
Bar Clamp Diameter: 31.8mm
Cable Type: Outer Cable
Weight: 240+/-15g
Standard: ISO4210
Warranty: 6 Years
ST1 Stem
Material: 100% Carbon Fiber T700

Finish:  UD Matt

Size: 90/100/110/120mm
Angle: -10°
Bar Clamp Diameter: 31.8mm

Steering Tube Diameter: 28.6mm
Stack height: 30mm

Weight: 140+/-15g
Standard: ISO4210

Warranty: 6 Years
H25 CARBON Handlebar
Featuring Yoeleo ProRoute System
Fit inner cable and outer cable
Introducing the Yoeleo ProRoute System:
Experience the peak of innovation and performance with the Yoeleo ProRoute System - crafted with care to meet the diverse needs of modern cyclists. We strive to redefine cycling experience by fusing cutting-edge technology with an unwavering commitment to quality and design. The ProRoute System is the embodiment of this pursuit, offering exceptional adaptability and aesthetics.
Unrivaled Adaptability:
Unrivaled Adaptability: The ProRoute Stem System introduces dual mounting solution for internal cable routing, catering to both the complete internal cable routing (Y-ICR) and the semi-internal cable routing (S-YICR) with sleek, removable spacers. This design ensures hassle-free installation.
Semi internal Cable routing
1 Fit all , more options
YOELEO TEST TEAM - 4MINDPROJECT
4Mindproject is a UCI continental cycling team who attend various UCI races throughout the year. R12 is our team machine.
6 YEARS WARRANTY
Durlable, Afforable, Quality handlebar We offer 6years quality warranty.
CRASH REPLACEMENT
We hope you don't need this but if you have a crash, we offer a 30% crash replacement discount on all handlebars and spares. Please contact us and we'll do our very best to help you and ride again ASAP.