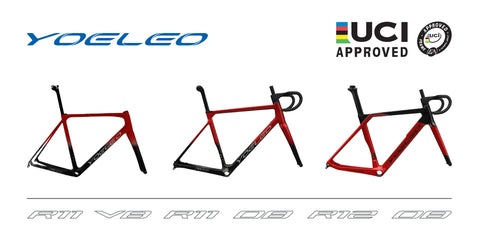 We're pleased to announce YOELEO R11 VB,R11 DB and R12 DB frameset have been tested and approved for use in UCI competition.
We've always tested to and above industry standards, however there is no denying that many cyclists put greater emphasis on UCI approval. Therefore we arranged for testing and certification of YOELEO frameset and all YOELEO road wheels are UCI approved in earlier.
The certification for the frames and road wheels has been issued by the UCI. The certification for YOELEO G21 gravel frameset has not yet been processed, but as they all performed flawlessly in testing, we expect them to be processed shortly.

The list of UCI approved frames is availible on the UCI website, Page 55: 
https://assets.ctfassets.net/761l7gh5x5an/7jA9krKzzy3lRXPzlm4uyn/22eab162c584ae6c43c47b27ffe5a4ae/Liste_des_Mod__les_homologu__s_de_kits_cadre__-_List_of_Approved_Models_of_framesets.pdf
The list of UCI approved wheels is also availible on the UCI website, Page 54:
https://assets.ctfassets.net/761l7gh5x5an/5qmS7gxC8fdXjctyqgwNph/df62b5c384890f293b5e6cbae21b240a/Liste_des_roues_homologu__es_-_List_of_approved_wheels_-_FRA-ENG.pdf